LNTPA nariai ir draugai nuo šiol galės mėgautis NT rinkai aktualiomis knygomis mūsų bibliotekos skiltyje. Čia rasite naudingos
literatūros nuorodas, autorius ir jų knygas. Tai ne tik rekomendacija, tačiau ir reali biblioteka – knygas galėsite paimti ir grąžinti
perskaičius.
Mielai lauktume ir Jūsų rekomendacijų, ką verta perskaityti NT rinkos dalyviams.
1.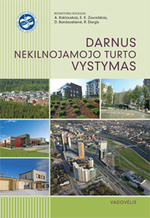 DARNUS NEKILNOJAMOJO TURTO VYSTYMAS
Autoriai: Artūras Kaklauskas, Edmundas Kazimieras Zavadskas, Dalia Bardauskienė, Robertas Dargis
Leidimo metai: 2012
Puslapiai: 880
Aprašymas: Vadovėlyje plačiai apžvelgti teoriniai ir praktiniai darnaus nekilnojamojo turto vystymo proceso uždaviniai, pateikiama konkrečių pavyzdžių. Nagrinėjama šiuolaikinė nekilnojamojo turto vystymo proceso modelio ir vystytojo samprata, analizuojami užstatytos aplinkos ir nekilnojamojo turto objektų vystymo ypatumai, nekilnojamojo turto ir investicijų vertinimo metodai, modeliai ir valdymas didinant objektų vertę. Knygoje pateikti teoriniai ir praktiniai tyrimai įrodo, kad intelektinės ir biometrinės technologijos verslo vadybininkams leidžia pasiekti aukštesnių darbo kokybės rezultatų, suburti kūrybingą vystytojų komandą, kuri rinkai pateiks kokybiškesnius produktus. Leidinyje pateikiama žinių apie nekilnojamojo turto vystymui svarbius sociokultūrinius aspektus: visuotinai pripažintus darnaus vystymosi principus, miestų raidą ir estetines vertes, teritorijų planavimą ir visuomenės dalyvavimą, paveldosaugą. Pripažįstama, kad ekonominės krizės yra neišvengiamos, o pateikti metodai leistų sumažinti galimus nuostolius. Vadovėlyje pateikiamos nuorodos į pažangiausios pasaulinės patirties, mokslinės literatūros šaltinius. Vadovėlis skirtas VGTU statybos ekonomikos ir nekilnojamojo turto vystymo studijų studentams (bakalaurantams ir magistrantams). Knyga gali būti naudinga kitų aukštųjų mokyklų ekonomikos, vadybos ir kitų sričių studentams, nekilnojamojo turto verslo praktikams.
 Ši knyga yra rusų ir anglų kalba.
– – – – –
2.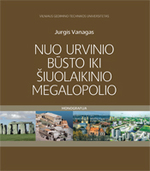 NUO URVINIO BŪSTO IKI ŠIUOLAIKINIO MEGAPOLIO
Aprašymas: Jurgis Vanagas (g. 1933) – architektas urbanistas, habilituotas humanitarinių mokslų daktaras, Vilniaus Gedimino technikos universiteto profesorius emeritas, Nacionalinės premijos laureatas, Lietuvos nusipelnęs architektas, Baltarusijos architektūros akademijos užsienio narys akademikas, daugelio tarptautinių organizacijų, plataus masto urbanistinių programų dalyvis. J. Vanago mokslinių interesų sritis – urbanistikos teorija, miestų ir regionų planavimas, miesto sociologija, gyvenamosios aplinkos formavimas, architektūros kritika ir publicistika. Dalyvavo pasauliniuose kongresuose, konferencijose, skaitė paskaitas JAV, Anglijoje, Prancūzijoje, Vokietijoje, Švedijoje, Nyderlanduose, Danijoje, Norvegijoje, Suomijoje, Slovėnijoje, Lenkijoje. Kelių Lietuvos miestų bendrųjų planų autorius, dalyvavo rengiant Lietuvos Respublikos teritorijos bendrąjį planą, sudarė Vilniaus miesto teritorinės plėtros koncepcijos variantą. Vilniaus ir Kauno dvimiesčio urbanistinės jungties kūrimo iniciatorius, jos rėmėjų draugijos pirmininkas. Yra tapęs ne vieno urbanistinio ir architektūrinio konkurso prizininku. J. Vanagas daug metų redagavo Vilniaus Gedimino technikos universiteto ir Lietuvos mokslų akademijos leidžiamą žurnalą "Urbanistika ir architektūra". Parengė monografijas, vadovėlius aukštosioms mokykloms "Miesto sociologijos pagrindai", "Miesto teorija", "Urbanistikos pagrindai" (du pastarieji premijuoti vadovėlių konkursuose). Yra parašęs daugiau kaip 300 straipsnių, išspausdintų 12 kalbų. Lietuvos Atgimimo sąjūdžio remiamas 1990 m. buvo išrinktas Vilniaus miesto tarybos nariu, apdovanotas ordino "Už nuopelnus Lietuvai" Karininko kryžiumi, Lietuvos architektų sąjungos Architektūros riterio kryžiumi, Kauno miesto "Santakos" Garbės ženklu.
– – – – –
3.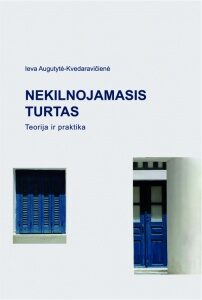 NEKILNOJAMASIS TURTAS
Autorius: Ieva Augutytė – Kvedaravičienė
Puslapiai: 216
Aprašymas: Vadovėlis
– – – – –
Knygų sąrašas abėcėlės tvarka anglų kalba:
 1.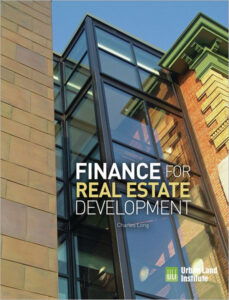 FINANCE FOR REAL ESTATE DEVELOPMENT
Author: Charles Long
Release year: 2011
Pages: 216
Description: Explaining how finances drive each decision in the real estate development process, this helpful industry guide recognizes the complexities and significant risks of each project and illustrates how to reconcile conflicting elements to ultimately achieve success. A 36-year real estate development veteran, author Charles Long shares the practical information and personal insights that he has gained over the course of his career, and weaves relevant real world examples into the text, helping to clarify the principles necessary to effectively manage a project in today's financial landscape. Ideal both for those starting out in real estate development and experienced professionals who want to learn the theory behind the practice, this book offers a different perspective on making the monetary decisions that are involved in property development projects.
– – – – – –
2.
Author: Timo Herranen and Edita Publishing Ltd.
Release year: 2012
Pages: 92
Description: YIT then and now. Described rising from a small company to a large construction company, its growth and internationalisation.
 – – – – – –
 3.
Author: Robin Rivaton, Vincent Pavanello
Release year: 2018
Pages: 153
Description: The first book on tech and real estate. The evolution of technology is turning it from the unusual to ubiquitous, FinTech, FoodTech, MedTech… In this revolution, real estate, the biggest sector of global economy, seems to stand still. It is about to change. On the one hand, proven technologies (Big Data, Augmented/Virtual Reality, Blockchain, Artificial Inteligence, 3D Printing, IoT, drones, robots…) are maturing. On the other hand, real estate becomes a service like any other for the new generations. This revolution will bring down prices and improve quality.
More than 150 startups which will change the trades of developers, brokers, realtors, asset manager, REITs and facility manager are listed. Proptech, Real Estech, Construction Tech, including the top 100 Real Estate startups.
– – – – – –
 4.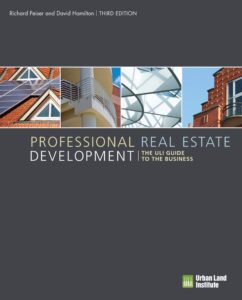 PROFESSIONAL REAL ESTATE DEVELOPMENT
Author: Richard B. Peiser, David Hamilton
Release year: 2013
Pages: 404
Description: The ULI Guide to the Business. This basic primer covers the nuts and bolts of developing all types of real estate, including multifamily, office, retail, and industrial projects. Thoroughly updated, this new edition includes numerous case studies of actual projects as well as small-scale examples that are ideal for anyone new to real estate development.
– – – – – –
5.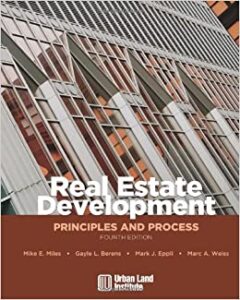 REAL ESTATE DEVELOPMENT: PRINCIPLES AND PROCESS
Author: Mike E. Miles ,Gayle L. Berens ,Mark J. Eppli ,Marc A. Weiss
Release year: 2007
Pages: 576
Description: This comprehensive book covers each stage of the real estate development process, explaining the basics of idea conception, feasibility, planning, financing, market analysis, contract negotiation, construction, marketing, and asset management. Widely used by professionals and in universities, this book should be on the shelf of anyone involved in architecture, planning, development, investment, or related fields.
– – – – – –
6.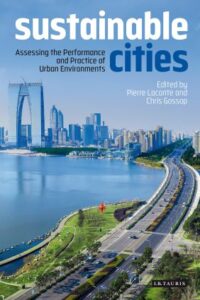 SUSTAINABLE CITIES
Author: Pierre Laconte, Chris Gossop
Release year: 2016
Pages: 242
Description: Assessing the Performance and Practice of Urban Environments. 
Sustainable Cities is about the challenges faced by our urban environments and how these can be met. Examining the built environment at three levels of observation – individual buildings, urban neighbourhoods, and entire cities and towns, the first part of the book reveals the scale of the task. The second part of the book offer a critical assessment of the techniques used to assess urban development, including the measurement of greenhouse gas emissions, ecological footprint analysis, and the measurement of urban biodiversity, where different approaches can yield significantly different results. It concludes with an alternative approach to greenhouse gases, making the case for them to be seen as a resource rather than as a liability. In the final part, case studies of best practice are presented. With contributions from a range of leading international specialists, Sustainable Cities will be essential reading for academics and professionals in urban and municipal planning, environmental policy and planning, architecture, urban geography, climate change, energy resources and environmental science and technology.
– – – – – –
7.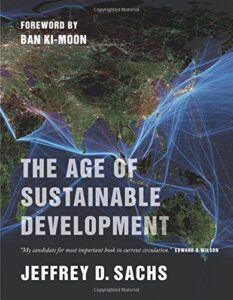 THE AGE OF SUSTAINABLE DEVELOPMENT
Author: Jeffrey D. Sachs
Release year: 2015
Pages: 544
Description: Jeffrey D. Sachs is one of the world's most perceptive and original analysts of global development. In this major new work he presents a compelling and practical framework for how global citizens can use a holistic way forward to address the seemingly intractable worldwide problems of persistent extreme poverty, environmental degradation, and political-economic injustice: sustainable development. Sachs offers readers, students, activists, environmentalists, and policy makers the tools, metrics, and practical pathways they need to achieve Sustainable Development Goals. Far more than a rhetorical exercise, this book is designed to inform, inspire, and spur action. Based on Sachs's twelve years as director of the Earth Institute at Columbia University, his thirteen years advising the United Nations secretary-general on the Millennium Development Goals, and his recent presentation of these ideas in a popular online course, The Age of Sustainable Development is a landmark publication and clarion call for all who care about our planet and global justice.
– – – – – –
 8.
Author: 
Kevin Andrew Lynch
Release year: 1960
Pages: 194
Description: The book itself shows a very useful way to study and analyze Boston, Los Angeles and Jersey City  and their dynamics. There is an anthropomorphism of the point of view. Whereas in older trends we can find the urban space analysis from the building, the square, the textures and the space itself, in "The Image of The City" the analysis is from the human perception of the it.
– – – – – –
9.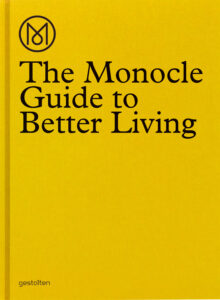 THE MONOCLE GUIDE TO BETTER LIVING
Author: Andrew Tuck, Santiago Rodriguez Tarditi
Release year: 2013
Pages: 400
Description: Full of writing, reports, and recommendations, The Monocle Guide to Better living is original, informative, entertaining, and comprehensive. This is not a book about glitz but rather an upbeat survey of products and ideas built to treasure and last. Monocle is one of the most successful magazines to be developed in the past decade. Armed with an unmistakable sense of aesthetics and journalistic tenacity, its team ― led by editor-in-chief tyler Brûlé ―has created an intelligent publication that continually inspires a global readership who are interested in everything from diplomacy to design. For its first-ever book, the editorial team looks at one of their core themes: how to live well. The result is The Monocle Guide to Better living, an original, informative, and entertaining collection of writing, reports, and recommendations. This is not a book about glitz but rather an upbeat survey of products and ideas meant to be treasured and last. Structured into chapters on the city, culture, travel, food, and work, the book also provides answers to some key questions. Which cities offer the best quality of life? How do you build a good school? How do you run a city? Who makes the best coffee? And how do you start your own inspirational business? The Monocle Guide to Better living works as a guide but also includes 10 essays that explore what makes a great city, why craft is desirable, how to run your own hotel, and why culture is good for you. This is not a book about fashion or the next big thing. It's a book about finding enduring values ―from a career you want to keep to furniture that will last a lifetime. It's a book designed to stay relevant, loved, and used. An indispensible guidebook to contemporary life, The Monocle Guide to Better living embodies everything that makes the magazine such a success: easy style and journalistic substance.
– – – – – –
10.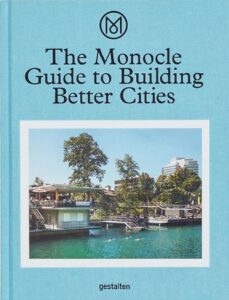 THE MONOCLE GUIDE TO BUILDING BETTER CITIES
Author: Andrew Tuck
Release year: 2018
Pages: 320
Description: How do we make better cities – places that work for people of all ages and backgrounds? How do we make cities that provide the obvious essentials – great transport, good places to work – as well as the softer elements that truly deliver quality of life, from urban swimming pools to rooftop clubs? Since its launch in 2007, Monocle has been passionate about making better places to live. Every year it publishes a Quality of Life Survey, which names the top 25 cities to call home. In addition, across the issues, it has interviewed the best mayors, looked at the metropolises putting pedestrians first and met the people creating the best parks, both pocket and grand. Discover how you too can have a High Line, create the most covetable housing or turn a dirty river into a summer asset. Packed with great images and intriguing reports, this is a book that takes the urbanism debate away from city hall and explains what's needed in ways that will inspire us all.
– – – – – –
 11.
Author: Josh Fehnert
Release year: 2018
Pages: 304
Description: Hotels are to be experienced. For the most recent volume in the Monocle Guide series, the editors delve into hotels, hoteliers, and the patrons hoping to make the most of their visit. The manual starts off with the Monocle 100: a list of places that have been earmarked by editors over the years they have spent exploring the world. However do not expect five-star finery, but charming and quirky accommodations. From there, the book explores how hotels are honing the craft of making every guest's stay an experience. Industry insiders share practical tips on how to run a hotel. These insights are invaluable, as they come from leaders in the field who have been in the business for years. Hospitality is an art—The Monocle Guide to Hotels, Inns and Hideaways offers a lesson in making a masterpiece.
– – – – – –
 12.
Author:  Robert A. Caro
Release year: 2015
Pages: 1312
Description: Robert Moses and the Fall of New York
The Power Broker by Robert A. Caro is 'simply one of the best non-fiction books in English of the last forty years' (Dominic Sandbrook, Sunday Times): a riveting and timeless account of power, politics and the city of New York by 'the greatest political biographer of our times' (Sunday Times); chosen by Time magazine as one of the 100 Best Non-Fiction Books of All Time and by the Modern Library as one of the 100 Greatest Books of the Twentieth Century; Winner of the Pulitzer Prize; a Sunday Times Bestseller; 'An outright masterpiece' (Evening Standard) The Power Broker tells the story of Robert Moses, the single most powerful man in New York for almost half a century and the greatest builder America (and probably the world) has ever known. Without ever once being elected to office, he created for himself a position of supreme and untouchable authority, allowing him to utterly reshape the city of New York, turning it into the city we know today, while at the same time blighting the lives of millions and remaining accountable to no one. First published in the USA in 1974, this monumental classic was a Sunday Times bestseller when published in the UK in 2015 and is now widely acknowledged to be one of the greatest books of its kind.
– – – – – –
13.
Author: Jordan Yin , foreword by W. Paul Farmer
Release year: 
2012
Pages:
 368
Description: 
How to create the world's new urban future. With the majority of the world's population shifting to urban centres, urban planning—the practice of land-use and transportation planning to help shape cities structurally, economically, and socially—has become an increasingly vital profession. In 
Urban Planning For Dummies
, readers will get a practical overview of this fascinating field, including studying community demographics, determining the best uses for land, planning economic and transportation development, and implementing plans. Following an introductory course on urban planning, this book is key reading for any urban planning student or anyone involved in urban development. With new studies conclusively demonstrating the dramatic impact of urban design on public psychological and physical health, the impact of the urban planner on a community is immense. And with a wide range of positions for urban planners in the public, nonprofit, and private sectors—including law firms, utility companies, and real estate development firms—having a fundamental understanding of urban planning is key to anyone even considering entry into this field. This book provides a useful introduction and lays the groundwork for serious study.
Helps readers understand the essentials of this complex profession
Written by a certified practicing urban planner, with extensive practical and community-outreach experience
For anyone interested in being in the vanguard of building, designing, and shaping tomorrow's sustainable city, Urban Planning For Dummies offers an informative, entirely accessible introduction on learning how.